Edmonton to places in Europe, plus bonus stop in Finland - all for ~$622-$680 roundtrip including taxes

Today I'm going to share a great little trick discovered by a travel junkie named Chad, a member of the YEG Deals Facebook Group, involving a way to get to certain destinations in Europe and back in September and October 2015, including a bonus stop in Helsinki, Finland, all for nearly half of the price of your typical roundtrip Europe flight!
Chad writes...
What I call 'The Helsinki Effect' of cheap fares to Europe is at its strongest point ever. Frankly ridiculous these days. Basically it goes like this: Pick a major destination in Europe. Then pair it with a short Helsinki stopover and you've got yourself a pretty inexpensive trip!
Here's how it works, and how you can find a cheap flight to somewhere in Europe...
1. Start with a multi-city flight, from Edmonton to somewhere in Europe and back, involving a stop in Finland. In this example, I'll use Paris...
Go to this example search: http://www.ca.kayak.com/flights/YEG-PAR/2015-09-16/PAR-HEL/2015-09-25/HEL-YEG/2015-09-27/2adults
As you can see, it's possible to get from Edmonton to Paris, France to Helsinki, Finland and back to Edmonton, for just $650 roundtrip including taxes.
2. But let's say you'd prefer somewhere else in Europe. At the Kayak search page above, click on the 'Change' button.
Now change the input boxes that say 'Paris (CDG)' to, let's say...Barcelona (BCN)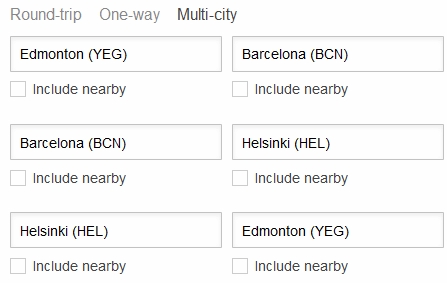 After hitting 'Search', a price of $679 shows up...

Clicking through to FlightHub verifies that the price is bookable.
Madrid, Spain for $668 is another destination you can substitute in.
Are there other dates I can try?
Yes. The cheaper prices are most likely to be found from mid September onwards.
Here's one in October 2015 from Edmonton to Istanbul, Turkey (IST) to Helsinki, Finland, and back to Edmonton, all for the ridiculously low price of $622 after taxes!
http://www.ca.kayak.com/flights/YEG-ISt/2015-10-17/IST-HEL/2015-10-25/HEL-YEG/2015-10-28/2adults
Note: If you play with the 'Layover Durations' slider on the left hand side of Kayak, you can find similar flights with a much shorter layover in Toronto for $706.
Updates
I will update this blog post if any more destinations or date combinations are discovered that work with this Helsinki trick.
- Copenhagen, Denmark (CPH) also works as the 'middle' city. It works out to $618. Here's an example search:
http://www.ca.kayak.com/flights/YEG-CPH/2015-09-16/CPH-HEL/2015-09-25/HEL-YEG/2015-09-27/2adults
- Dublin, Ireland (DUB) is available for $624
http://www.ca.kayak.com/flights/YEG-DUB/2015-09-17/DUB-HEL/2015-09-25/HEL-YEA/2015-09-30/2adults
- Brussels, Belgium (BRU) is available for $689
http://www.ca.kayak.com/flights/YEG-BRU/2015-09-16/BRU-HEL/2015-09-25/HEL-YEG/2015-09-30
- Milan, Italy (MXP) is available for $703.
http://www.ca.kayak.com/flights/YEG-MIL/2015-09-16/MIL-HEL/2015-09-28/HEL-YEG/2015-09-30
Update - Christmas & New Years flights now showing for $566 roundtrip including taxes!
Once again, credit goes to Chad for this one. Chad writes...
Just a heads up that the Christmas-in-Europe fares just sunk lower. Use the Helsinki trick. The nice thing about this one is you could do Christmas eve/day in Paris and New Years eve/day in Amsterdam. A high speed train between the two cities will run you about $50 if purchased 3-months in advance as an inflexible ticket.
To find this one, you need to do a multi-city search on the KLM website, like this...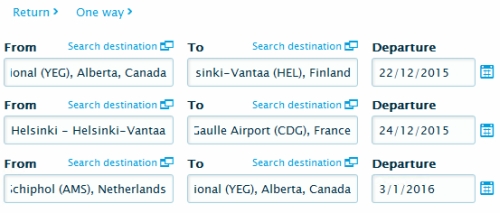 So when you get to KLM.com, click on 'multiple destinations' (right below the search form), and then click the 'Add Flight' button, and enter in a search like the one in the image above (same destinations and dates).
screenshot from KLM booking page:

For live discussion of this deal, or to get some amazing travel advice from over 9,000 real travelers from Edmonton, join us in the YEG Deals Facebook Group.
Hit Like if you like this deal! Click Share to show your friends on Facebook.
People That Liked This Page Also Liked:
| | |
| --- | --- |
| | You may also want to check out pages that were tagged with: |
| | |
Be The First To Know About The Next Amazing Deal!
Head to the
YEG Deals Alerts Page
where you can choose to be notified by e-mail, Facebook, Twitter, or RSS Feed the moment an amazing travel deal from Edmonton is found.
Setting up alerts allows you to be one of the first to see a new deal, before it sells out.
And don't worry, alerts are only sent when it's truly an amazing deal.
Like Our Site? Follow Us!
Comments from Facebookers
Comments from Everyone Else